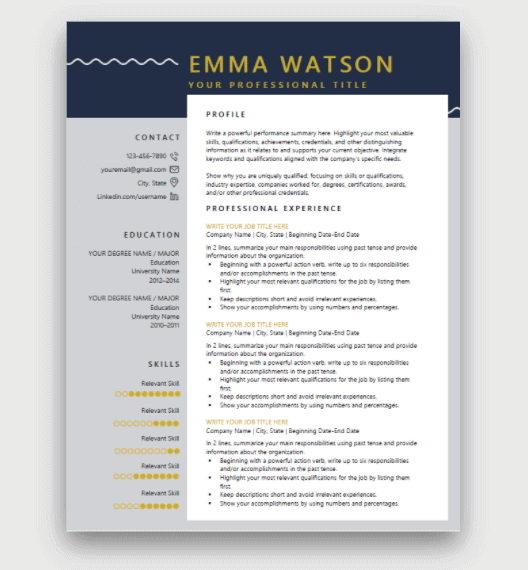 PROFESSIONAL RESUME TEMPLATE – FREE DOWNLOAD
You've probably heard about the importance of a resume. When you're applying for your dream position, you want to impress and stand out, and your resume is the best way to do this.
So, why is the quality of your resume so important? The answer is, simply, this is the first thing your potential employer will see. This is where they will begin to form a first impression – and it's important to make it count!
WHY TO DOWNLOAD A RESUME TEMPLATE FOR FREE
One of the first challenges jobseekers face is ensuring their resume is professional, clear, and appealing to hiring managers and recruiters.
Using a free resume template means you can be sure all the information you need is included and presented in the best possible way. Our templates can help you achieve this and increase your chances of landing your ideal position!
Our free, downloadable resume template includes:
A single page template in a simple two-column format
Easy and free to download in Microsoft Word
An appealing basic design that's easy to personalize to your needs
Do you need a 2-page template? And a matching cover letter? Check out our Premium Pack and take your job application to the next level.
HOW TO EDIT YOUR FREE RESUME
After downloading your free resume template, you can edit it by:
Follow the simple instructions that come with the template and fill in your own details to make your resume personal to you.

If you wish, you can change the font by clicking on your preferred font of Microsoft Word. This step is optional, as you can leave it with the original font.

The resume comes with an awesome color scheme by default. But, you can change this too. Do this by right-clicking the section, then selecting "Format Shape", "Fill", "Color", then choosing the color you want.
If you want more info on how to personalize your template, simply click on the video below for a free step-by-step guide.
For more advice and top tips on building the best possible resume to build your career, why not try out our online course, How to Create a Job-Winning Resume.
This course is developed for US-based job hunters and is in English. But, it's ideal for international applicants too, and contains everything you need to land your ideal position!