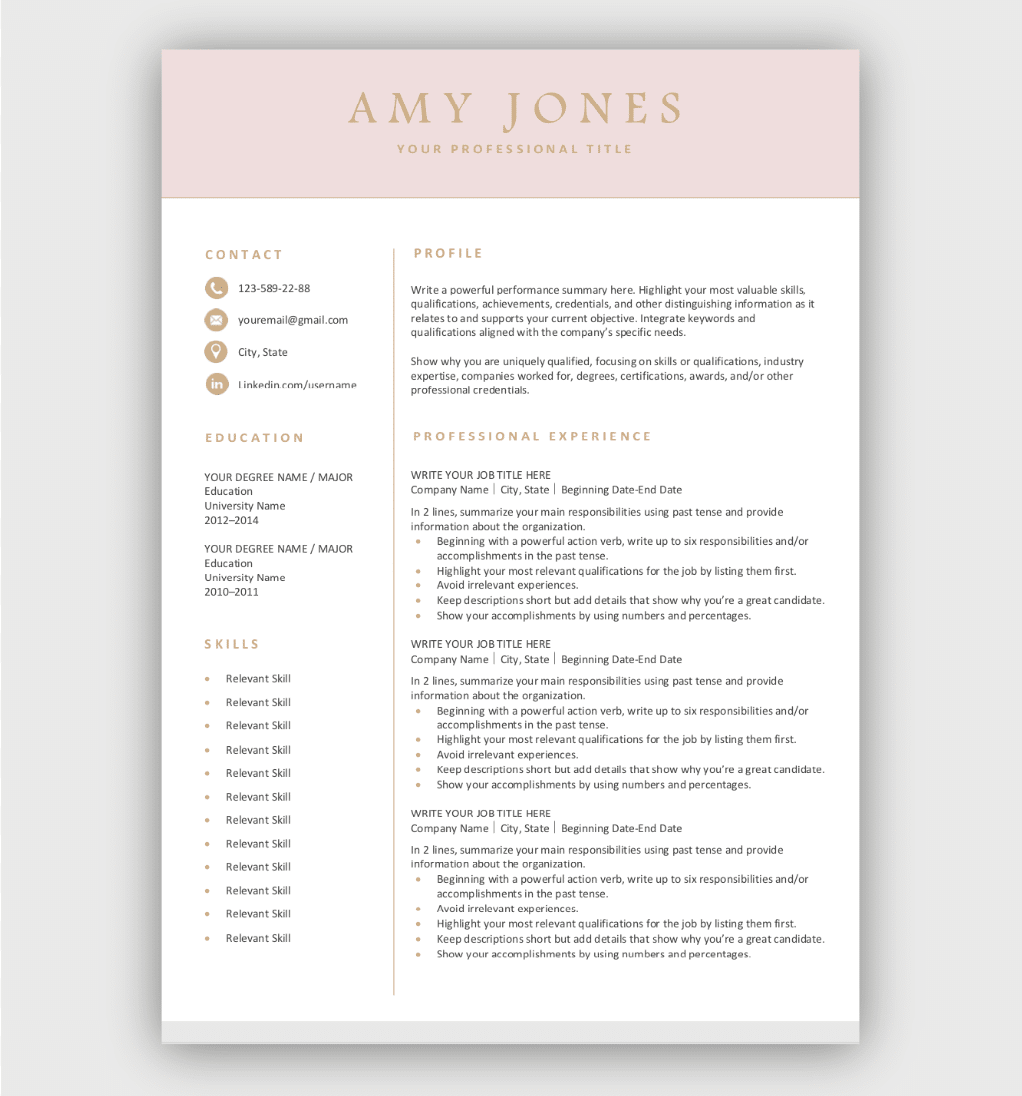 SIMPLE RESUME TEMPLATE IN WORD
Writing a resume can feel like such a daunting task. However, if you're applying for jobs, having a professional resume is essential if you want to be taken seriously by employers. 
If you're struggling to find the ideal format and content, using a downloadable resume template is a great idea. This way, you can ensure it is perfect, making it sure to impress!
THE BENEFITS OF AN EDITABLE TEMPLATE 
Your resume should represent you and give a snapshot of who you are. It's an ideal place to show what makes you unique and what skills and experience you bring to the table. 
Our free, contemporary resume templates are easy-to-use and can help show what you have to offer in an attractive format. Simply add in your details, and you're ready to apply for your dream job!
A two-column, single-page template that's perfect for job applications
Simple design that can be customized to your preferences
Downloadable for free in Microsoft Word format
Do you need a 2-page template? And a matching cover letter? Check out our Premium Pack and take your job application to the next level.
TIPS FOR PERSONALIZING YOUR RESUME
Once you've downloaded the template, you can change the font by selecting your preferred choice on Word – although you can keep the original font if you wish.

If you would like to change the color scheme, you can do this by right-clicking on the section you want to change, then click "Format Shape", "Fill", then "Color".

Finalize your resume by following the straightforward instructions attached to the resume template. Just fill in your own details where prompted, and you will have your resume!
We hope these instructions are clear. But, if you want some more help and advice, take a look at the video below for a step-by-step tutorial.
For even more info and useful tips on building the best resume to boost your career, our online course, How to Create a Job-Winning Resume, is now available.
This course is designed for job seekers in the USA, which means it's in English and suited to this job market. However, if you live elsewhere, it's still applicable and contains some superb information on creating the best resume possible.
WHAT PEOPLE HAD TO SAY ABOUT THIS TEMPLATE:
"I revamped my resume using this template, and it looks very professional. Thank you!" 
"Nice template"
"Easy to download and personalize. Looks very pretty." 
"Quick and easy!"