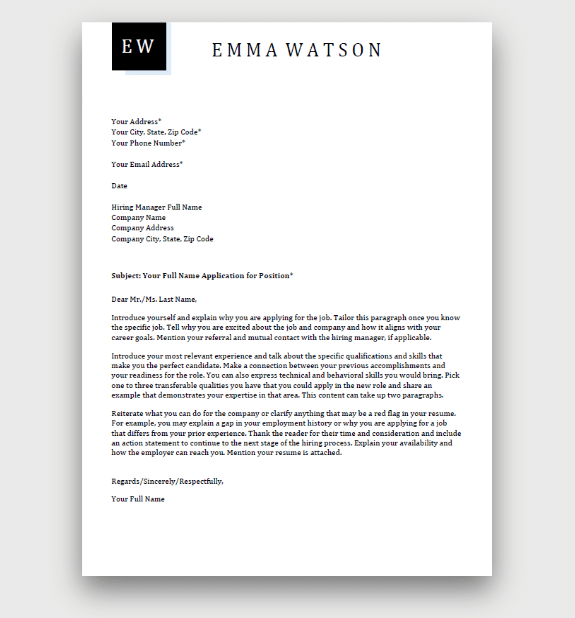 FREE COVER LETTER TEMPLATE – DOWNLOAD NOW
Cover letters are essential for making the right first impression. They help your application stand out and increase the chances of being selected for an amazing job role.
Because of this, having a well-written cover letter is a must. While your resume documents your skills and experience, a cover letter sums up why you're interested in this particular role.
Making sure your cover letter is perfect is the best way to get the employer to read the resume and set up an interview with you. That's why we've created this easy-to-use template.
By using our basic outline and editing in your details, you can create the cover letter you need to get your application noticed and be invited for an interview.
WHAT IS INCLUDED?
A free template in Microsoft Word format 

An easier way to build an attractive, professional cover letter

Easily customizable to your requirements using copy and paste
HOW TO WRITE AN AWESOME COVER LETTER
To improve your chances of being noticed, your cover letter should always: 
Be clear and concise, highlighting your top skills and achievements 

Showcase your best 3 or 4 qualities and include evidence and examples 

Contain information about the company, so it's important to research this first 

Be well presented and checked for typing and spelling errors 

End with a clear call-to-action inviting them to contact you 
HOW TO CUSTOMIZE THE TEMPLATE
After downloading our cover letter template, it can be personalized in just a few simple steps. Here's how to do this:
The template comes with a font installed. But, you can change this if you wish by selecting the font of your choice of Microsoft Word.

If you're not happy with the color scheme we have chosen, you can change this by right-clicking the section and selecting "Format Shape," Color", "Fill", then "Color".

Using the instructions, start editing your own details into the cover letter. After doing this, it will be totally finished and ready to send out!
Our template is in English and was designed for applicants in the USA. However, if you're applying for positions elsewhere, you can absolutely still use it when applying for jobs. Our easy-to-use template is ideal for landing your dream job!