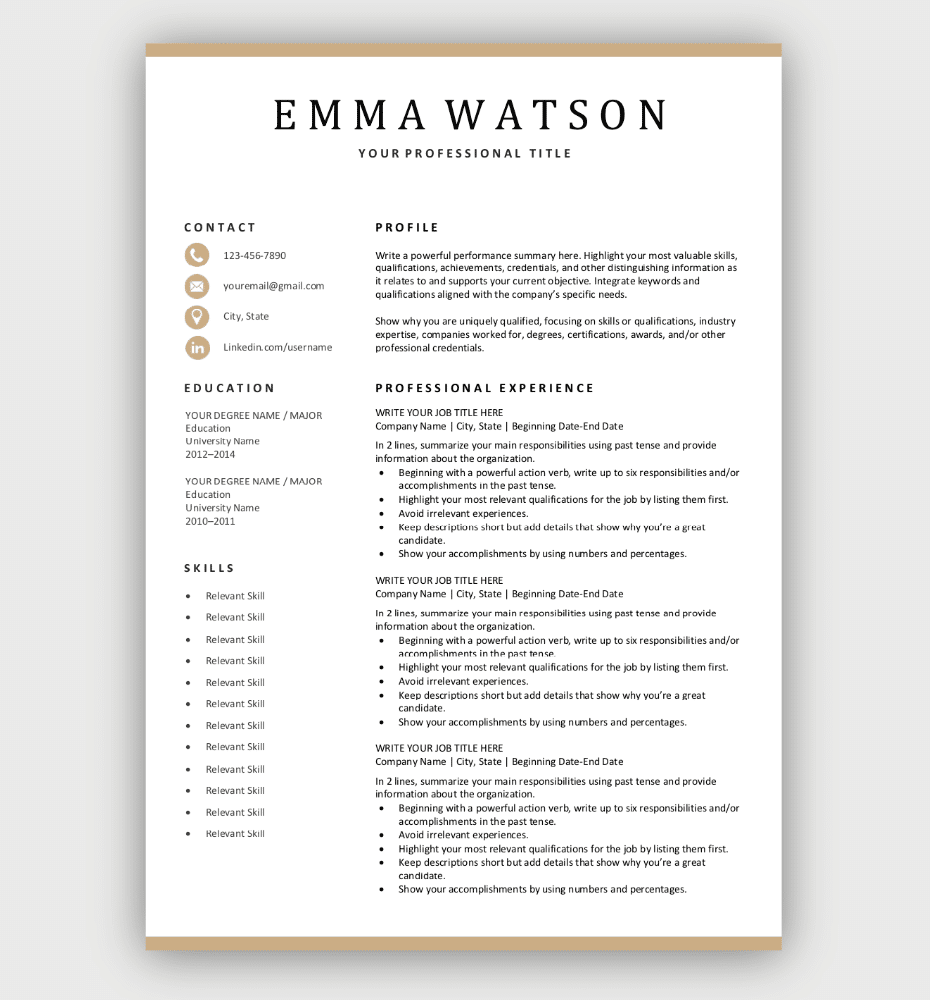 DOWNLOAD OUR FREE RESUME TEMPLATE
Resumes can be confusing at times. But, they are one of the most important aspects of a job application. It's often the first thing the potential employer sees after viewing your application. Your resume will be examined and scrutinized, so it's important to get it right. 
If you're looking for easy-to-use, free resume templates online, look no further. This is the best resume builder and is sure to impress. This resume has a simple design that can be easily personalized, then saved as a PDF file and sent to employers when you apply for jobs. 
CHOOSING A MINIMALIST-STYLE RESUME
When you're deciding on the right layout and design for your resume, remember, less is often more. A minimalistic resume template shows you are professional and don't need fancy fonts and colors to stand out – you're willing to let your experience and track record speak for itself! 
This resume uses more traditional, cleaner looking fonts and lines. This makes it suitable for practically any job type and industry. So, whether you work in consulting, finance, education, healthcare, or another sector, our simple template will help your skills to stand out!
  A basic two-column template in Word format 
  A professional, modern design that's ideal for job applications
  A customizable resume that's attractive yet stress-free to build
The template is in English and is designed for US-based job applicants – but it can still be used for jobseekers in other countries!
Do you need a 2-page template? And a matching cover letter? Check out our Premium Pack and take your job application to the next level.
HOW TO CREATE YOUR RESUME
To personalize your resume to include your details, simply download and open the template. Then, follow the instructions provided to adjust the content. 

Our free resume template comes ready-built with all the fonts installed. However, if you want to change these to your taste, simply select your preferred fonts on Word. 

Like the font, our template also has a default color scheme that is simple, fresh, and professional. You can change this too though, if you wish, by right-clicking the area then choosing "Format Shape", "Fill", and "Color". 
Now your resume is complete, it's ready to go! Just save a copy, then send it off when you apply for jobs in the future! 
If you want more advice on building an awesome resume that's bound to impress, why not sign up to our online course? If you want to improve your chances of landing your dream job, the course, "How to Create a Job-Winning Resume", is ideal!