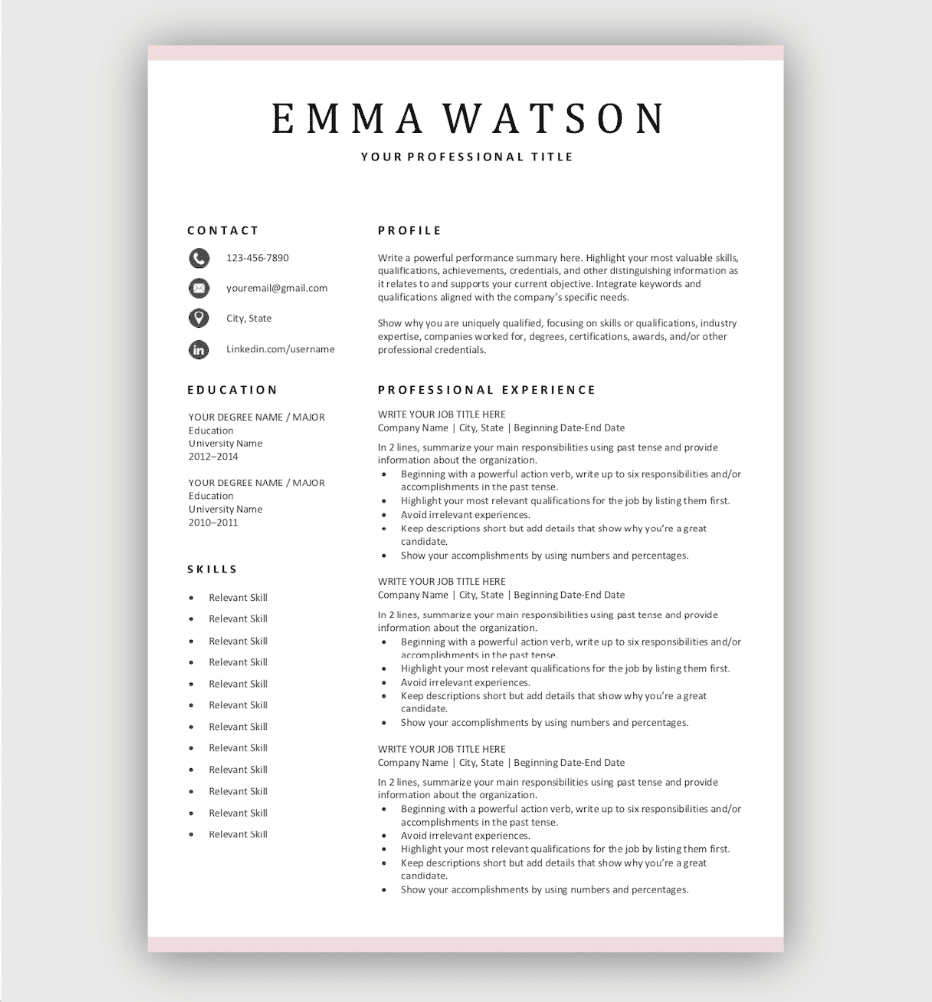 FREE RESUME TEMPLATE FOR WORD
If you're trying to secure your dream job, having a professional, attractive resume is essential. This is one of the best ways to stand out and showcase your skills, abilities, and experience. If you're not sure where to start, our free to download resume template for Word is absolutely perfect. You start with our amazing outline, then add your details, edit, and send it to employers.
WHY YOU NEED A SIMPLE RESUME TEMPLATE
When you're applying for jobs, you're probably up against a lot of other applicants. This means that, if you want to stand out, it's important to have a resume that shows you in the best light. This can be perplexing, as there are so many formats available. We know how confusing it can be. Because of this, we've designed a straightforward and easy-to-use, editable resume template that looks great and includes all the important details you need. You can even add personal touches, which is sure to impress potential employers!
A simple, two-column resume design in Microsoft Word format
Andeasy way to build a single-page resume perfect for job applications
Easily customizable to your personal taste
Do you need a 2-page template? And a matching cover letter? Check out our Premium Pack and take your job application to the next level.
HOW TO CUSTOMIZE YOUR TEMPLATE
Your free resume template is so easy to use:
Download the template. This is already set up with a professional-looking font, but you can change this if you wish by selecting your preferred font on Microsoft Word.

The resume templates have pre-installed color schemes. However, if you want to change this, right-click on the section and choose "Format Shape", then "Fill" and "Color". From this menu, you can edit it to your ideal color scheme.

Check the instructions we have provided with the template. Follow these instructions to fill in your details. Then, you will have your ideal resume!
We hope these instructions are clear. But, if you want some more help, take a look at the video below for a step-by-step tutorial.
For more great tips on how to build a fantastic resume that gets great results, you can sign up to our online course, How to Create a Job-Winning Resume. Before you take this course, please note that it is built for job applicants in the USA and is in English. But, if you're an international job hunter, it's still completely suitable for you!
This template is in English and was built particularly for job seekers in the USA, but you can definitely use it for international job applications.
WHAT PEOPLE HAD TO SAY ABOUT THIS TEMPLATE:
"Easy and amazing!"
"Had my resume done within thirty minutes."
"This template is nice and easy to use. My resume looks very professional. Would highly recommend it!"