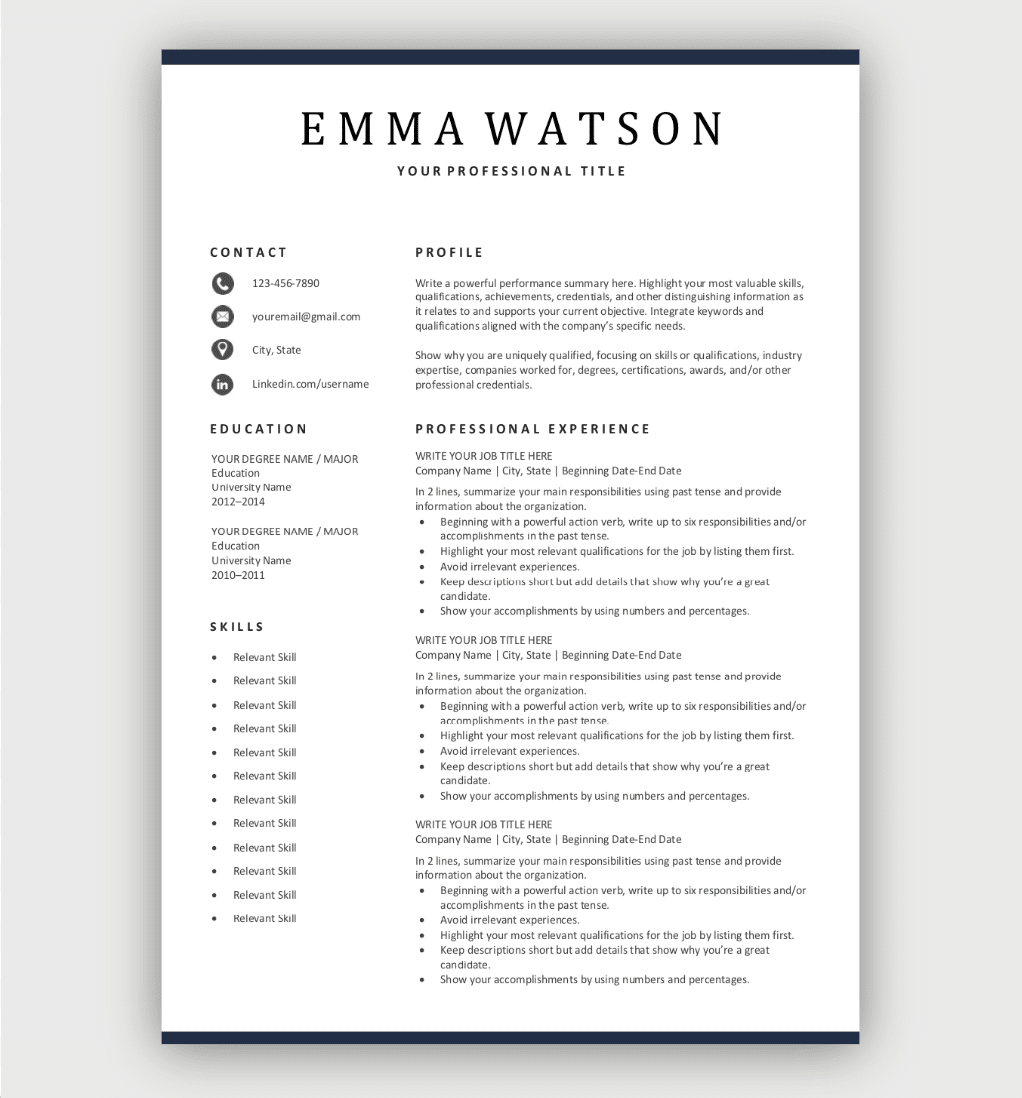 DOWNLOAD FREE RESUME TEMPLATE
If you want to make a great first impression and boost your career, having an awesome resume is a must. This is the place to highlight why you're perfect for a role and what you have to offer. 
Our simple resume template gives you an ideal starting point. Simply edit in your own details, and you'll have a resume that helps you land your dream job!
THE BEST FREE RESUME TEMPLATES
A resume is such an important part of the job searching process. However, it can be confusing for many people trying to balance different aspects and create a resume that's professional, stands out, and shows off key skills and accomplishments. 
Our editable resume templates are free to download and easily customizable to your needs. This simple outline looks amazing and is sure to impress potential employers. Plus, it allows you to change it as needed and add a personal touch.
  An eye-catching single page template in Microsoft Word format with a two-column design
  Easy to personalize in just a few clicks using copy and paste
  A much simpler way to build a professional looking resume
Do you need a 2-page template? And a matching cover letter? Check out our Premium Pack and take your job application to the next level.
CUSTOMIZING YOUR TEMPLATE: A QUICK GUIDE
Once you download our free resume template, you can personalize it quickly and easily by following these steps: 
Our template is already set up with an attractive font. But, if you want to change this, select the font of your choice in Microsoft Word. 

Again, we've already installed colors on our resume templates, but these can be changed to suit your taste. To do this, right-click on the area and select "Format Shape," then hit "Fill" followed by "Color." Then choose the color you want. 

Take a look at the instructions provided in the template. Follow these instructions to create your ideal resume! 
If you want more advice on setting up your resume from our template, watch the video below for an easy-to-follow, step-by-step guide. 
Further to this, if you want more tips on creating an amazing resume that gets results, why not sign up for our online course, How to Create a Job-Winning Resume. 
Please note, this template is in English and was built primarily for applying for jobs in the USA, but it's still totally suitable for international job hunters!
WHAT PEOPLE HAD TO SAY ABOUT THIS TEMPLATE:
"Thank you so much for this beautiful template and easy download."
"The template is gorgeous. Thank you!"
"I downloaded your resume template and absolutely loved it! Thank you for providing this for free. I am happy to say that my resume looked amazing and I received a job offer yesterday so thank you again! I think the template definitely made me stand out."
"Thank you so much for the amazing template! I used it right after graduating from college & got so many compliments! It definitely helped me stand out during interviews! I have shared it with all my friends who are looking to stand out during an employment search. Again thank you! I appreciate the template so much!"